Stop Fundamentalism – A member of the Iranian Islamic Parliament (Majlis) who wanted to stay anonymous, reported Amir-Kabir Newsletter on 15 August, said that electric shock is used to torture prisoners in Iran's notorious prisons.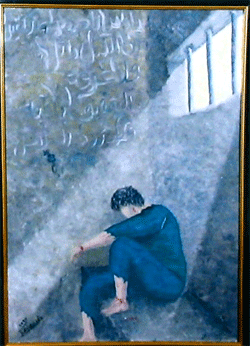 The MP detailed that he went to Evin prison with a group of MPs to investigate torture of political prisoners. 
"We went to the women ward asking who had been in Kahrizak?" The MP said asking women prisoners to provide details of their treatment there. 
"One of the woman said that she was stripped bare in Kahrizak and was told to enter a barrel of water where she was administered electric shocks. "
Details of horrifying treatment of prisoners was unearthed by former presidential candidate, Mehdi Karubi, last week as he wrote of men and women prisoners being raped viciously by prison officials and investigators.
Karubi said that many of the young arrestees who are released show signs of depression and some have committed suicide.
 One young girl who's known by her first name Maryam is still in a coma for committing suicide after her release from prison.
It has been said that prisoners are told that they have to be made an example of, for the others, in order to stop protests in streets.