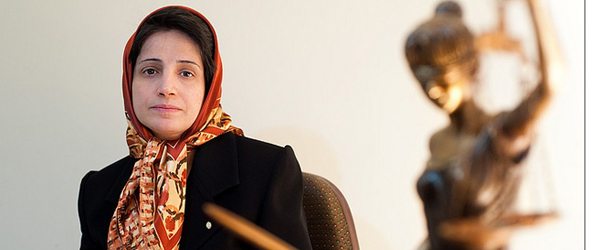 Stop Fundamentalism – Iranian jailed human rights lawyer, Nasrin Sotoudeh, who is scheduled to receive the European Parliament's Sakharov Prize for Freedom of Thought later this month, has reportedly ended her 49 day hunger strike after travel ban on her 12-year-old doughier was lifted by Iranian authorities today, repots Kalame website.
The hunger strike had left the Iranian lawyer weak, having trouble walking and seeing according to her husband Reza Khandan.
United Nations High Commissioner for Human Rights, Navi Pillay, called on the Iranian regime to release Sotoudeh and other political activists in jail yesterday.  "The rights to freedom of expression and opinion, and peaceful assembly are fundamental human rights which must be protected and respected," said Rupert Colville, spokesman for Navi Pillay to reporters at a press conference in Geneva yesterday.
"The High Commissioner urges the Government of Iran to urgently address Ms. Sotoudeh's situation by lifting the travel ban and other sanctions on her family, which cannot be justified under international law," Mr. Colville stated.  "Other activists and their families have also been imposed similar restraints, reflecting a disturbing trend to curb freedom of expression, opinion and association," said Colvile to reporters.
The UN spokesman also expressed concern that family members of human rights activists and lawyers are targeted by Iranian authorities, frequently.
Nasrin Sotoudeh, 49, is an Iranian lawyer, jailed in the notorious Evin prison for speaking out on behalf of her clients and against juvenile executions in Iran.  Following her hunger strike and nomination to receive the Sakharov Prize for Freedom of thought by the European Parliament, the Iranian regime imposed a travel ban on her husband and daughter.
Sotoudeh is invited to receive her award at the European Parliament headquarters in Strasbourg December 26.  She will share the award with another Iranian dissident, Jafar Panahi, filmmaker.
Both award winners are subject to a travel bans by the Iranian regime.