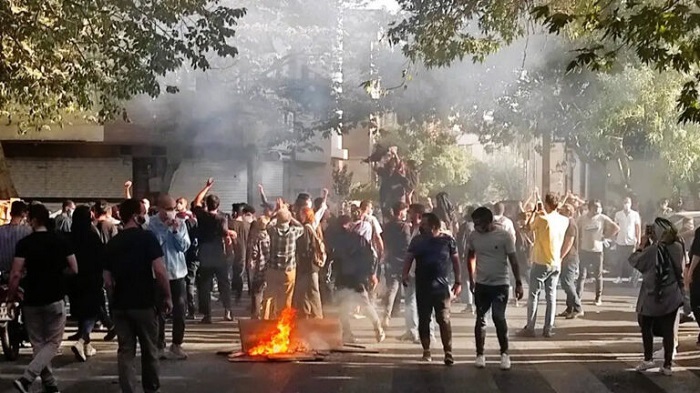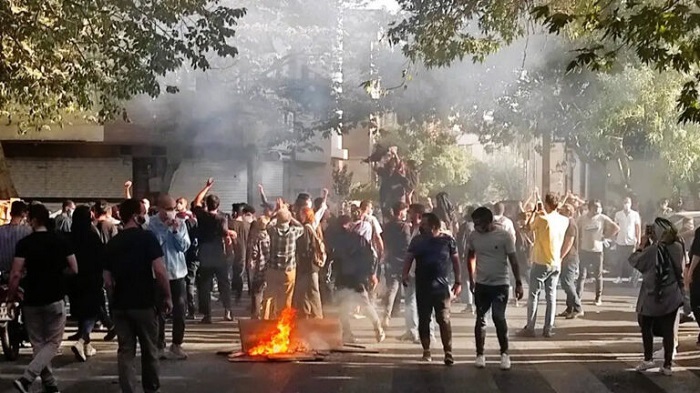 Iran's nationwide uprising against the ruling mullahs' regime is marking its 145th day with a growing number of protests across the country. Demonstrators are voicing their hatred of the regime by torching symbols of pro-regime propaganda, including billboards, posters, and banners, in cities throughout Iran.
As the regime prepares to mark the 44th anniversary of Iran's 1979 anti-monarchial revolution, brave protesters are taking a stand against the corrupt dictatorship that has plagued Iran for far too long.
On Tuesday night, locals in Tehran's Marzdaran district and other areas, and the city of Shiraz, began chanting anti-regime slogans, including "Death to the dictator!", "So many years of crimes! Death to the mullahs' regime!".
Meanwhile, chicken farmers held a rally outside the regime's Agricultural Ministry in Tehran, protesting increasing expenses that have left them barely able to make ends meet.
February 7 – Tehran, #Iran
Locals chanting: "Death to the dictator!"#IranRevolution#مرگ_بر_ستمگر_چه_شاه_باشه_چه_رهبرpic.twitter.com/ljiDMSxUhC

— People's Mojahedin Organization of Iran (PMOI/MEK) (@Mojahedineng) February 7, 2023
In Tehran, workers at the Kian Tire Manufacturing Company held a rally at the factory, protesting the company officials' refusal to address their demands. "Enough with promises! We have nothing to eat!", they chanted.
In Bandar Abbas, protesters were seen torching pro-regime propaganda posters, with similar reports coming from the cities of Bushehr, Mashhad, and Divandarreh.
February 7 – Bandar Abbas, southern #Iran
Protesters are torching pro-regime propaganda banners across the city.#IranRevoIution #مرگ_بر_ستمگر_چه_شاه_باشه_چه_رهبر pic.twitter.com/04szoZjfof

— People's Mojahedin Organization of Iran (PMOI/MEK) (@Mojahedineng) February 7, 2023
In Ahvaz, the capital of Khuzestan Province in southwest Iran, students of a university where the regime's government spokesman Ali Bahadori Jahromi was visiting on Monday, began chanting slogans and shouting "Spokesman, get lost!". In Tehran and other cities across the country, including Mashhad, Kerman, Dezful, Zanjan, Semirom, and Karaj, protesters were seen torching pro-regime propaganda billboards and posters.
In Isfahan, farmers continued their protests on Monday over the drying of the local Zayandehrud River, which has left their lands and crops devastated. Regime security forces have reportedly attacked the protesting farmers.
Investors in the state-owned Kerman Motor Company rallied outside the regime's Ministry of Industry, Mine and Trade in Tehran, demanding answers and the return of their stolen money. Retirees and pensioners of the regime's telecommunications industry in Khuzestan Province rallied in Ahvaz, protesting their low pensions and poor economic conditions.
Iranian opposition coalition NCRI President-elect Maryam Rajavi stressed the Iranian people's aspirations for freedom and democracy:
"The Iranian people want an elected government based on the separation of religion and state. The Iranian Resistance is proud to have elevated that cry to the formation of a democratic alternative and a movement that is able to fulfill the aspirations of the Iranian people," she said.
The Iranian people want an elected government based on the separation of religion and state
The Iranian Resistance is proud to have elevated that cry to the formation of a democratic alternative and a movement which is able to fulfill the aspirations of the Iranian people#Iran pic.twitter.com/fDuCZp8aki

— Maryam Rajavi (@Maryam_Rajavi) February 6, 2023
---

MEK Iran (follow us on Twitter and Facebook), Maryam Rajavi's on her site, Twitter & Facebook, NCRI  (Twitter & Facebook), and People's Mojahedin Organization of Iran – MEK IRAN – YouTub