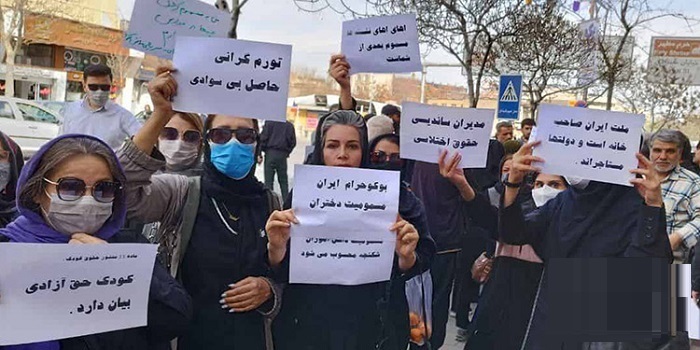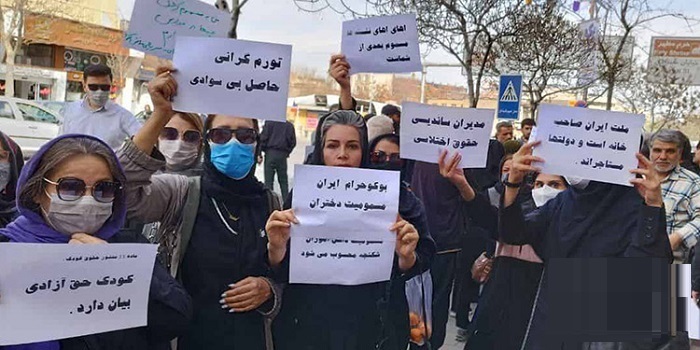 The protests were triggered by another 41 female students in Zahedan who were poisoned as a result of inhaling toxic gases, adding to the ongoing student poisoning crisis in the country.
Protesters chanted slogans such as "Condemn the chemical attacks," "Death to the child-killing regime," "School security is our inalienable right," and other phrases. The demonstrators called on the clerical regime to take responsibility for the attacks and provide adequate security measures in schools.
In Tehran's 5th district, teachers and students' families gathered outside the Department of Education to protest the poisoning of girls. However, the State Security Force and plainclothes agents fired tear gas at the protesters in Rasht, the capital of Gilan Province. Similarly, security forces and plainclothes agents raided a gathering of protesters in Mashhad, the capital of Khorasan Razavi Province.
The protests spread to other cities, with teachers and students' families in Shiraz, Sanandaj, and Ardabil, among other cities, gathering outside their departments of education to condemn the chemical attacks on students and widespread poisoning.
#سنندج
مردم و جوانان دلیر و قیام‌آفرین سنندج سه‌شنبه ۱۶ اسفند در اعتراض به موج مسمومیتهای مراکز آموزش در ایران تجمع اعتراضی برگزار کردند#مسمومیت_دانش_آموزان #No2ShahNo2Mullahs pic.twitter.com/GwK3LFbPYf

— Simay Azadi (@simayazaditv) March 7, 2023
A teacher in Noorabad-Mamasani, Fars Province, expressed his frustration at the government's lack of response, stating that if a young man writes a slogan on the wall, the authorities use full force to identify and punish him. However, despite the passage of three months since the poisoning of students began, government officials have remained silent and have not addressed the public's concerns.
March 6 – Mashhad, northeast #Iran
Regime operatives launched a chemical gas attack targeting the all-girls Qaem Elementary School, leaving a number of students ill.#IranChemicalAttacks pic.twitter.com/RWiN3s0Q24

— People's Mojahedin Organization of Iran (PMOI/MEK) (@Mojahedineng) March 6, 2023
The protests highlight the growing anger and frustration among teachers and families of students in Iran over the deliberate poisoning of students. The demands for accountability and improved school security measures are likely to continue until the government takes decisive action to address the crisis.
---

MEK Iran (follow us on Twitter and Facebook), Maryam Rajavi's on her site, Twitter & Facebook, NCRI  (Twitter & Facebook), and People's Mojahedin Organization of Iran – MEK IRAN – YouTu