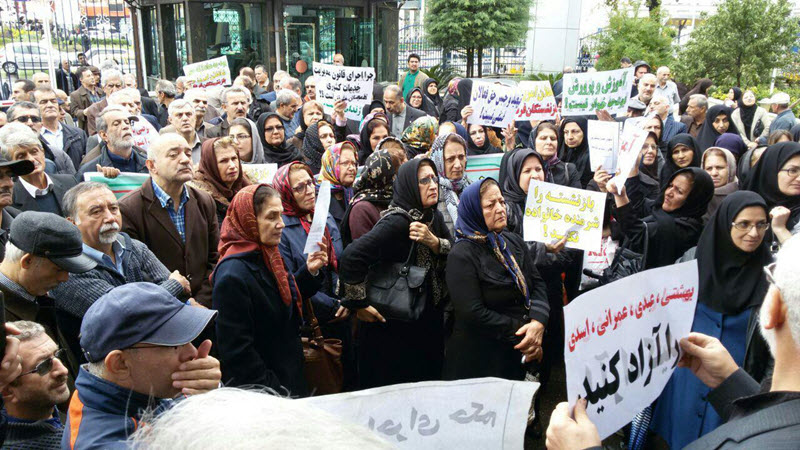 by Staff writer, SF
In Iran on Tuesday, in front of the regime's program and budget organization in Tehran, a massive group of retirees from several different provinces, including Fars and Kermanshah, gathered to demand a raise in their salaries, corresponding with the inflation seen in the country. Many of these people live below the poverty line. They also asked for implementation of a coordinated payment system, balancing of their salaries, and paying their efficiency insurance premiums.
The protesters told government news agencies that the salaries they receive cover less than 10 days of their expenses each month. Even regime officials acknowledge that in the past few months nearly two thirds of their purchasing power has been lost by retirees.
"Imprisoned teachers must be freed, imprisoned students must be freed, prison is not the place for teachers, cry from all this injustice, the poverty line is six million; our salaries are two million," was chanted by the crowd, after teachers and educators across the country refused to go to go to classes on October 14th and 15th. Iranian authorities arrested at least two education activists. The staged sit-ins were held to demand the teachers' minimum rights. The two-day strike was called by the Coordinating Council of Teachers Union (CCTU), and was promoted on Twitter with the hashtag "#nationwide teachers' sit-in." Security forces threatened activist teachers and members of the coordinating council in an attempt to halt the spread of this sit-in.
Students are showing support for their teachers in Karaj, Qom, Qeshm, Ahvaz and Langroud, as well as many other cities. Students of Allameh University and the Faculty of Social Sciences of the University of Tehran, along with students of other schools, gathered to support of the demands of the striking teachers. Their banners read, "Imprisoned teachers must be freed; imprisoned students must be freed; teacher, worker, student, unity, unity!"
Farmers of Varzaneh in the province of Isfahan, are also gathering in in protest of the cutting of their water rights, as well as the policies that led to the drying up of Zayandeh Rood. Their lives and agriculture are being affected, and the angry farmers protested for several successive days. On a banner, they addressed Iranian President Rouhani, "Do not do any more to revitalize Zayandeh Rood!"
In the municipality of Sushtar, hundreds of workers protested in front of the municipality's building regarding their salaries and bonuses, which have not been paid for months.