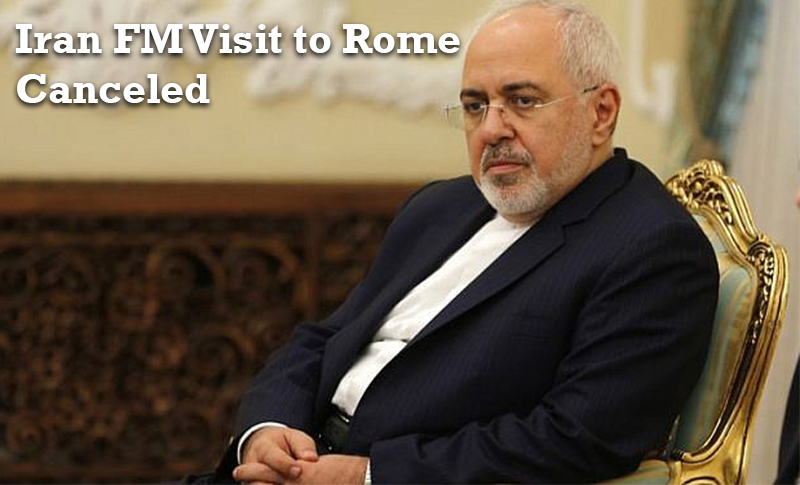 By Atousa Pilger
Javad Zarif, Iranian regime's Foreign Minister visit to Institute for Strategic Studies MED in Rome that was planned on 6 and 7 December is canceled, reported the Italian news agency Kronos on December 2, 2019.
This is what Kronos has found out "His absence could be related to domestic tensions in Iran where many protests took place against the government and were bloody suppressed," reported Kronos. Kronos continued that more than 160 have been killed (750 so far) and Zarif estimates and is worried to be charged for the crackdown of protests. A meeting with prime minister Giuseppe Conte and foreign minister Luigi Di Maio was planned during Zarif's visit to Rome.
Antonio Stango president of the Italian Federation for Human Rights (FIDU) wrote on November 23, 2019, asking Italian PM Conte to clearly condemn the bloody repression of demonstrators in Iran and the blatant violation of part of the civil liberties that the regime is obligated to adhere to by international law.
The uprising in November showed that the regime is not capable of containing the roaring tides of protests and social rebellion, and that the Iranian people will never give in. The conditions will not revert back to the pre-uprising equilibrium. #IranProtests #Iran pic.twitter.com/94gMu3nvsW

— Maryam Rajavi (@Maryam_Rajavi) 3 december 2019
Background
According to the People's Mojahedin Organization of Iran (PMOI/MEK) number of victims killed by the Iranian regime's security forces and snipers rises to 750.
Iran Protests started on November 15 in over 190 cities. In these protests, more than 4000 are injured and twelve thousand arrested. The MEK Iran published so far the identities of 194 martyrs killed in Iran Protests 2019.
Prof. Sheehan:Silence by Western powers,it must b remembered,was all too prevalent during the murderous crackdowns on #protesters in 2009&2018,&in numerous other repressive episodes dating back to the #1988massacre of 30,000 political prisoners.#IranProtests #StopIranBloodshed pic.twitter.com/f9NVKFO5Dx

— NCRI-FAC (@iran_policy) November 29, 2019
Mrs. Maryam Rajavi, President-elect of the National Council of Resistance (NCRI), called on the international community to take urgent action to stop the killing and repression in Iran. Maryam Rajavi called on the United Nations to immediately dispatch a fact-finding mission to Iran to visit those arrested. The leaders of the Iranian regime must be held accountable for their crimes against humanity.
The international community's silence and inaction is unacceptable. The UN Security Council must declare that the religious fascism ruling #Iran is engaged in crimes against humanity. #IranProtests pic.twitter.com/OaDue7i8Xq

— Maryam Rajavi (@Maryam_Rajavi) November 19, 2019