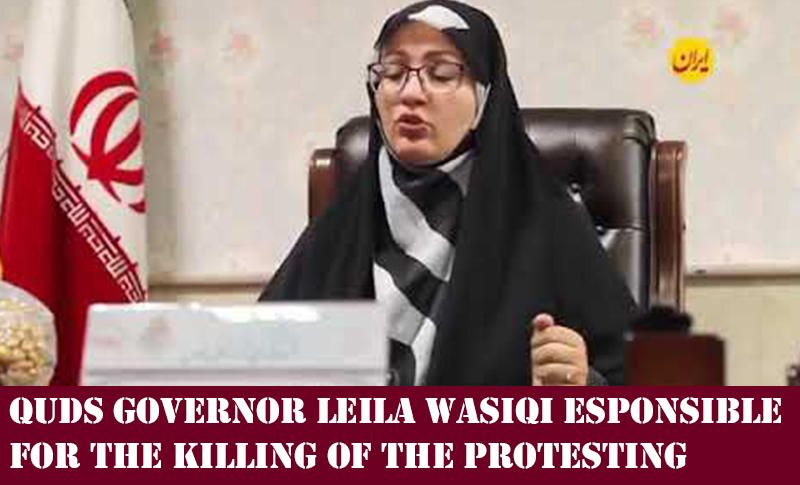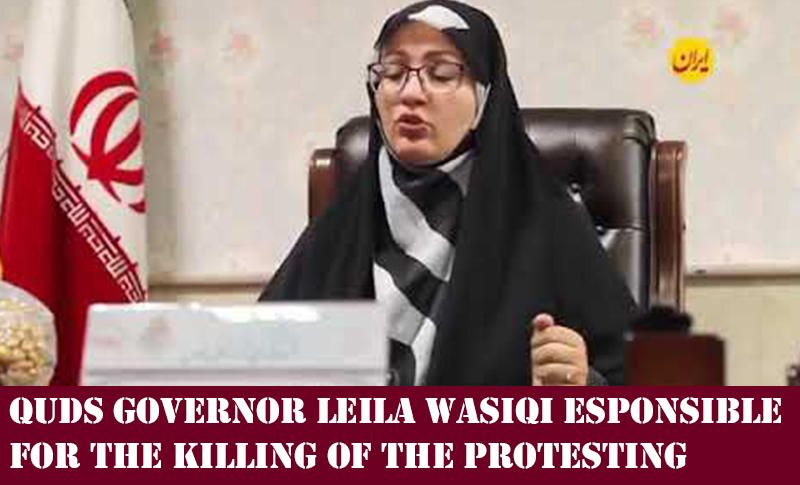 By Atousa Pilger
The Quds city in western Tehran witnessed massive violent repression in the days of the uprising. After the price of gasoline went up, people took to the streets and started protesting. They rallied in front of the governorate. Meanwhile, Quds governor Leila Wasiqi said security forces had the permission to prevent people from entering the governorate
even to shoot them.
Leila Wasiqi explicitly confesses that she assumes responsibility for the killing of the protesting youth in front of the governorate.
The People's Mojahedin Organization of Iran (PMOI/MEK) announced on December 1, that the number of martyrs of the Iran Uprising in 187 cities has reached 600. The PMOI published the names of another 15 persons killed during the protests. The names of a total of 194 persons have been so far verified and announced by the PMOI.
The Iranian Resistance calls on the UN and other international human rights organizations to undertake urgent measures to stop the slaughter and torture of Iran protesters and to dispatch a fact-finding mission to Iran to investigate the deaths, injury, and imprisonment of Iran protesters.
Reports indicate a tight security environment within cities. Simultaneous with the suppression and arrests of participants in the nationwide uprising, the regime's security forces are arresting civil activists.
Mrs. Maryam Rajavi, President-elect of the National Council of Resistance (NCRI), once again called on the international community to take urgent action to stop the killing and repression in Iran. Maryam Rajavi called on the United Nations to immediately dispatch a fact-finding mission to Iran to visit those arrested. The leaders of the Iranian regime must be held accountable for their crimes against humanity.
For the people of #Iran, the forty years of the mullahs' rule is synonymous with an all-out massacre. but we will take it back and we will rebuild this most beautiful country. #Iranprotests pic.twitter.com/xXJjSwrPY4

— Maryam Rajavi (@Maryam_Rajavi) 1 december 2019
Names of Iran Protests 2019 Martyrs – Published by MEK
1. Tehran – Majid Hessabi
2. Tehran – Seyed Hamid Taheri
3. Tehran – Ms. Nikta Esfandbani (14 years of age)
4. Tehran – Majid Fallahpour
5. Tehran – Ms. Mina Sheikhi
6. Tehran – Ms. Golnaz Samsami
7. Tehran – Sajjad Baqeri
8. Tehran – Fereidoun Kazemi
9. Tehran – Ali Behboudi
10. Tehran – Ali Morad-manesh
11. Tehran – Abdollah Ajarloo
12. Tehran – Ali Dahlir
13. Tehran – Yashar Alizadeh
14. Tehran – Peyman Nouri
15. Tehran – Mahmoud Vali-e Elahi
16. Tehran – Moussa Shahsavand
17. Tehran – Ali Shahsavand
18. Tehran – Hamzeh Shahsavand
19. Tehran – Khosro Bakhtiari
20. Tehran – Saeed Yousefi
21. Tehran – Hossein Yami
22. Tehran – Hossein Issavand
23. Tehran – Seyed Qassem Hosseini
24. Tehran – Erfan Faeqi
25. Tehran – Mehrdad Moin
26. Tehran – Payman Qolipour
27. Tehran – Majid Sheikhi
28. Tehran – Hossein Niaz
29. Tehran – Qods – Hossein Shahbazi
30. Tehran – Qods – …. Alizadeh
31. Tehran – Qods – Javad Babai
32. Tehran – Islamshahr – Amir Reza Abdullahi
33. Tehran – Islamshahr – Iman Rassouli
34. Tehran – Islamshahr – Mohsen Jafarpanah
35. Tehran – Islamshahr – Arash Kohzadi
36. Tehran – Islamshahr – Mohammad Mehdi Haghgouy
37. Tehran – Shahriar – Reza Hassanvand
38. Tehran – Shahriar – Ebrahim Mohammad-pour
39. Tehran – Shahriar – Ms. Azadeh Zarbi
40. Tehran – Shahriar – Mehdi Paapi
41. Tehran – Shahriar – Hossein Ghadami
42. Tehran – Shahriar – Mehdi Da'emi
43. Tehran – Shahriar – Ehsan Shiri
44. Tehran – Shahriar – Milad Nahjevand
45. Tehran – Shahriar – Aliollah Amini
46. Tehran – Shahriar – Qassem Rezai
47. Tehran – Shahriar – …. Yar Mohammadi
48. Tehran – Shahriar – ….. Momeni
49. Tehran – Shahriar – Seyed Mohammad Hossein Tahaei
50. Tehran – Baharestan – Ms. Fatima Habbibi
51. Tehran – Baherestan – Gol Agha Nouri
52. Karaj – Mallard – Hadi Sartipi
53. Karaj – Mallard – Sajjad Rezai
54. Alborz Province (Fardis) – Pedram Jafari Kamijani
55. Alborz Province (Fardis) – Ashur Kalna (Christian)
56. Alborz Province (Fardis) – Omid Salehi
57. Karaj – Dariush Zibanejad Monfrad
58. Karaj – Gholamreza Bahrami
59. Karaj – Omid Rezai
60. Karaj – Nasser Rezai
61. Karaj – Amir Hossein Kabiri
62. Karaj – Maysam Ahmadi
63. Karaj – Ms. Mahnaz Mehdizadeh Nader
64. Karaj – Morteza Sadeqi Nader
65. Karaj – Ebrahim Mehdipour
66. Karaj – Shahram Moini
67. Karaj – Mehrshahr – Hamid Rassouli
68. Karaj – Reza Mo'azami Goudarzi
69. Karaj – Poya Bakhtiari
70. Karaj – Hossein Qassemi
71. Karaj – Ms. Ameneh Shahbazi
72. Karaj – Amir Shokri
73. Ahvaz – Mohammad Reza Ossafi Zargani
74. Ahvaz – Hamzeh Sevari
75. Ahvaz – Meysam Mojadam
76. Ahvaz – Reza Atieh Neisi
77. Ahvaz – Mohammad Barhi (Barbehi)
78. Behbahan – Mohammad Hossein Ghanavati
79. Behbahan – Javid Naaman
80. Behbahan – Mehrdad Dashtinia
81. Behbahan – Mahmoud Dashtinia
82. Behbahan – Ehsan Abdollah Nejad
83. Behbahan – Mohammad Hashamdar
84. Behbahan – Ms. Shabnam Diani
85. Behbahan – …. Taddayon
86. Behbahan – Farzad Ansari (Farzad Tazmipour)
87. Khorramshahr – Meysam Mani'at
88. Khorramshahr – Khaled Mani'at
89. Khorramshahr – Milad Hamidi
90. Khorramshahr – Meysam Abdolvahab Adgipour
91. Khorramshahr – Ali Ghazlavi
92. Khorramshahr – Ebrahim Matouri
93. Khorramshahr – Hassan Tamimi
94. Andimeshk – … Najafvand
95. Ramhurmoz – Khuzestan Province – Hadi Ghorbani
96. Ramhurmoz – Khuzestan Province – …. Moussavi
97. Ramhurmoz – Khuzestan Province – Nabi Saeed
98. Ramhumoz – Khuzestan Province – …. Rashedi
99. Shushtar – Ahmad Moussavi Jo'aveleh
100. Abadan – Ali Baghlani
101. Mahshahr – Hamid Sheikhani
102. Mahshahr – Razzaq Nasserzadeh
103. Mahshahr – Ms. Atighi
104. Mahshahr – …. Hatavi
105. Mahshahr – Ghassem Bavi
106. Mahshahr – Mohammad Khaleghi
107. Mahshahr – Adnan Helali
108. Mahshahr – Mojtaba Ebadi
109. Mahshahr – Mansour Daris
110. Mahshahr – Abbas (Reza) Assakereh
111. Mahshahr – Ahmad Khajeh Albughli
112. Mahshahr – Ali Khajeh Albughli
113. Mahshahr – Mohammad Khaledi
114. Mahshahr – Youssef Khaledi
115. Mahshahr – Iqbal Esmaeeli
116. Shiraz – Kelar – Rassoul Ghavimi
117. Shiraz – Mohammad Reza Jamshidi
118. Shiraz – Marvdasht – Mehdi Nikoui
119. Shiraz – Amir Alvandi
120. Shiraz – Abdollah Ghavimi
121. Shiraz – Mehdi Nekoui Ali Abadi
122. Shiraz – Reza (Bahman) Jafari
123. Shiraz – Majid Hashemi
124. Shiraz – Janfeshan Assadi
125. Shiraz – …. Parsai
126. Shiraz – …. Parsai
127. Shiraz – Mehdi Jahanbazi
128. Sirjan – Ruhollah Nazari Fat'habadi
129. Garmsar – Hassan Tavoosi
130. Sannandaj – Mozzafar Seifi
131. Sanandaj – …. Fa'eq
132. Sanandaj – Ali Baghlani
133. Sanandaj – Saneh Shahoo
134. Saqqez – Mohammad Heydarian
135. Somesara – … Kiaei
136. Bukan – Shelir Dadvand
137. Bukan – Ms. Hiva Naderi
138. Marivan – Mehran Taak
139. Marivan – Behrouz Maleki
140. Marivan – Usman Naderi
141. Marivan – Danial Ostovari
142. Marivan – Edris Bivareh
143. Marivan – Usman Ahmadi
144. Marivan – Ms. Aryan Rajabi
145. Javanroud – Hamzeh Naghdi
146. Javanroud – Farshad Kheirandish
147. Javanroud – Ali (Yunes) Firouzbakht
148. Javanroud – Yunes Houshangi
149. Javanroud – Kaveh Rezai
150. Javanroud – Jabbar Tejareh
151. Javanroud – Kaveh Mohammadi
152. Javanroud – Salman Rahmani
153. Javanroud – Ebrahim Moradi
154. Javanroud – Mobin Abdollahi
155. Kermanshah – Hessam Barani Rad
156. Kermanshah – Esmaeel Qaderinia
157. Kermanshah – Mozzafar Zahiri
158. Kermanshah – Nader Biravand
159. Kermanshah – Nader Bijanvand
160. Kermanshah – Mohammad Mirzai
161. Kermanshah – Mozzafar Vatandoust
162. Kermanshah – Mostafa Farzami
163. Kermanshah – Yunes Ezzati
164. Kermanshah – Mostafa Bakeri
165. Kermanshah – Abdollah Shahabadi
166. Kermanshah – Mansour Fakhri
167. Kermanshah – Ahmad Mansouri
168. Kermanshah – Faramarz Rahimi
169. Kermanshah – Abdolreza Shirzadi
170. Kermanshah – Borhan Mansournia
171. Kermanshah – Foad Joshan
172. Kermanshah – Nemat Hosseini
173. Kermanshah – Yunes Jalili
174. Kermanshah – Pouria Nasserikhah
175. Kermanshah – Saeed Rezai
176. Kermanshah – Javad Karami
177. Tabriz – Ali Hosseini
178. Ardabil – Seyed Ali Fotohi Kouhsareh
179. Langroud – Pejman (Ali) Gholipour
180. Yazdanshahr – Sassan Eidivand
181. Yazdanshahr – Rasoul Amani
182. Yazdanshahr – … Davoudvand
183. Isfahan – Mohammad Pour Pirali
184. Isfahan – Nematollah Shafiee
185. Isfahan – Javad Shiyazi
186. Isfahan – Arsham Ebrahimi
187. Isfahan – Safar Adivandi
188. Isfahan – Ahmad Qorbani Dastjerdi
189. Isfahan – Ebrahim Manssouri
190. Isfahan – Arman Armani
191. Isfahan – Amir Hossein Dadvand
192. Isfahan – … Shokrollahi
193. Zanjan – Amir Hossein Abbasi
194. Rasht – Mohammad Reza Nikvaran