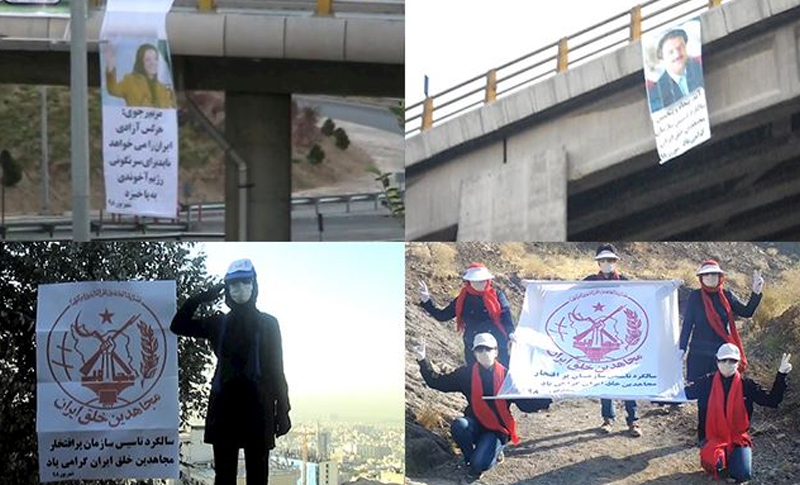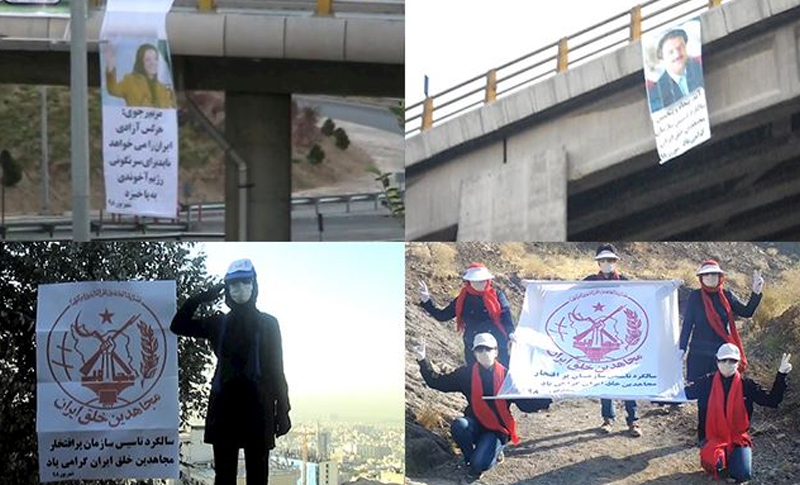 By Azita Carlson
Members of the People's Mojahedin Organization of Iran's Resistance Units continually expanded the recent November 2019 protests, by putting up images and posters of Resistance leaders in cities across Iran.
MEK Resistance Units is a growing network in various cities and towns of Iran and are risking their lives to bravely pursue pro-resistance activities. Support for the MEK is considered a red line for the regime and its punishment is execution.
Iranian people throughout the country are continuously witnessing activities of MEK Resistance Units members.
MEK Resistance Units quotes from messages of Iranian Resistance leader Massoud Rajavi and opposition President Maryam Rajavi, head of the National Council of Resistance of Iran (NCRI).
In Khuzestan Province, southwest Iran, images of the resistance leaders, Maryam and Massoud Rajavi were put up with quotes describing the strong will of the Iranian people to topple the mullahs' regime.
"… the [MEK] has influence among the country's senior administrative officials. The [MEK] will not give up on us and we must be very careful to not be surrounded."#Iran#IranProtestshttps://t.co/xaQDBeRnLM

— People's Mojahedin Organization of Iran (PMOI/MEK) (@Mojahedineng) 28 december 2019
In Tabriz, a major city in northwest Iran, a Massoud Rajavi poster read that while forces of regime Supreme Leader Ali Khamenei may continue their crackdown, they are actually digging their own graves.
In Zanjan, also in northwest Iran, Maryam Rajavi's images quoted the NCRI President saying the time has come to free Iran from the mullahs' occupation.
In Rasht and Khorramabad, signs were seen quoting Massoud Rajavi encouraging Iranians to continue protests against the mullahs' regime.
In Dezful, southwest Iran, members of a resistance unit sent a message to the Iranian Resistance leader announcing their readiness for more anti-regime measures.
Graffiti in various cities such as Karaj, Mashhad, and Shiraz were seen reading "Death to Khamenei" and other slogans of continued resistance against the mullahs' regime.
In Tehran, MEK Resistance Unit members increased their activities by posting more images and quotes of Iranian opposition leaders Massoud and Maryam Rajavi.
Another poster quotes Maryam Rajavi saying the blood of recently killed civilians is fueling the continuous determination of the Iranian people against the mullahs' regime.
It is worth noting that any support for the PMOI inside Iran is considered punishable by death by the mullahs' judiciary. Back in June 2014, Gholamreza Khosravi, an MEK supporter, was arrested and executed merely for sending a small financial donation to a satellite TV network affiliated to the PMOI/MEK. "Gholamreza Khosravi Savadjani was arrested in 2008 in Rafsanjan, Kerman Province, in connection with his alleged support of the pro-PMOI (People's Mojahedin Organization of Iran) TV station Sima-ye Azadi (Voice of Freedom)," according to Amnesty International.