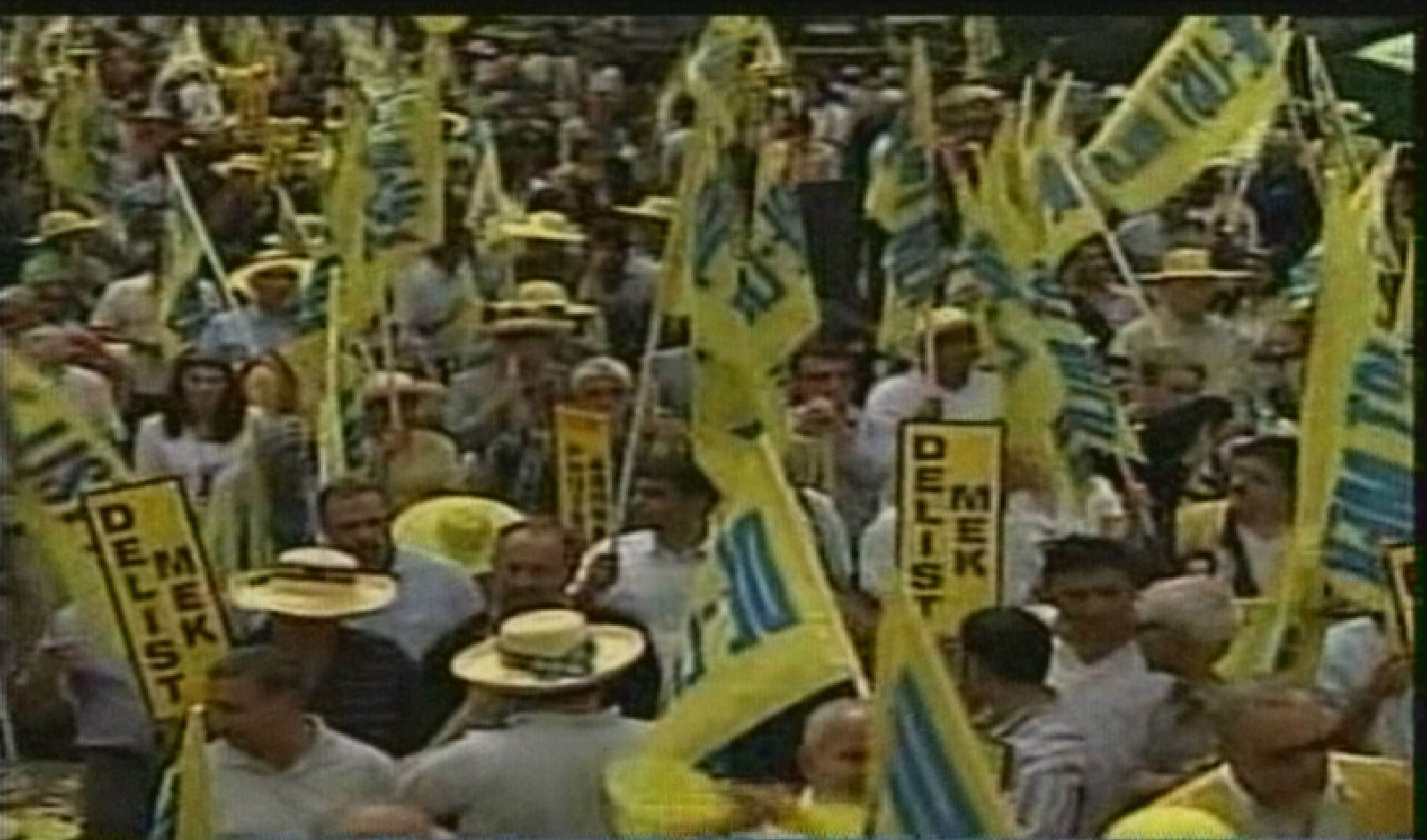 Stop Fundamentalism, Washington- 26 August 2011 – Iranians and supporters of the Mujahedin-e Khalq (MEK), the main Iranian opposition movement, gathered in front of the State Department, today calling for immediate removal of the name of the group from the United States terror list.
The demonstrators also called for the US government to ensure about the protection of the residents of Camp Ashraf were an assault by the Iraqi government earlier this year claimed the lives of 36 men and women in that camp.
Demonstration started at 10:30 in the morning and ended at 14:00.  Organizers say that the participants had come from 40 states of the United States and Canada.
The Rally was moderated by Patrick Kennedy, U.S. Congressman (1995-2011), and son of late Senator Edward Kennedy.  The speakers called on the US to live up to its commitments regarding 3400 Ashraf residents.
Brian Binley (MP) from United Kingdom, announced the support of 4000 parliamentarians from across the globe, including a significant number of members of the UK Parliament and House of Lords, for delisting the PMOI from the U.S. FTO list.
Mrs. Maryam Rajavi, the President-elect of the Iranian Resistance, addressed rally via satellite.  She said that State Departments delay in removing the MEK from the terror list is unjustified and the MEK has paid a dear price for it with lives of those who died in the camp last April and those executed In Iran by the Iranian regime.  She emphasized that the Iranian regime uses the US terror tag as a justification for execution of MEK supporters in Iran.
'Why are you not annulling the license to kill our children?' … This disgraceful listing separates the two camps of the regime's supporters on the one hand and those defending freedom and democracy in Iran on the other," said Maryam Rajavi.
Mrs. Rajavi added, "Clearly, the U.S. bears special responsibility for ensuring the protection of these residents on the basis of its agreements with every single one of the residents in Camp Ashraf. As reiterated by members of Congress, the U.S. would be responsible for any future humanitarian catastrophes in Ashraf. "