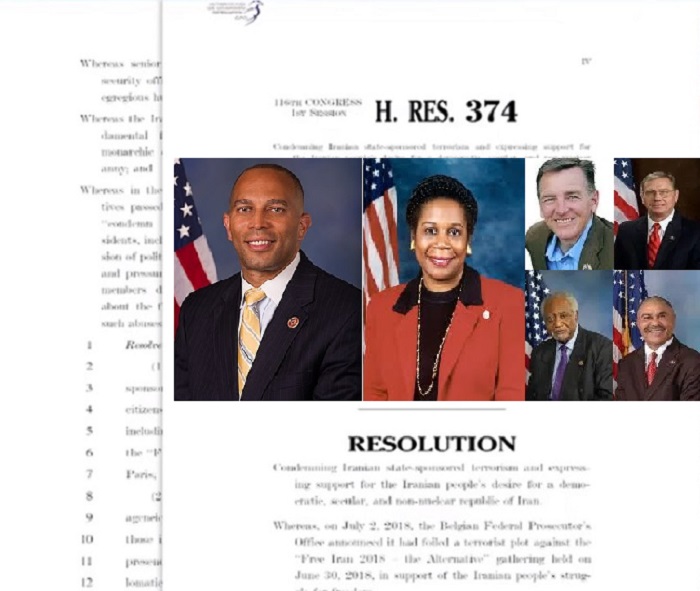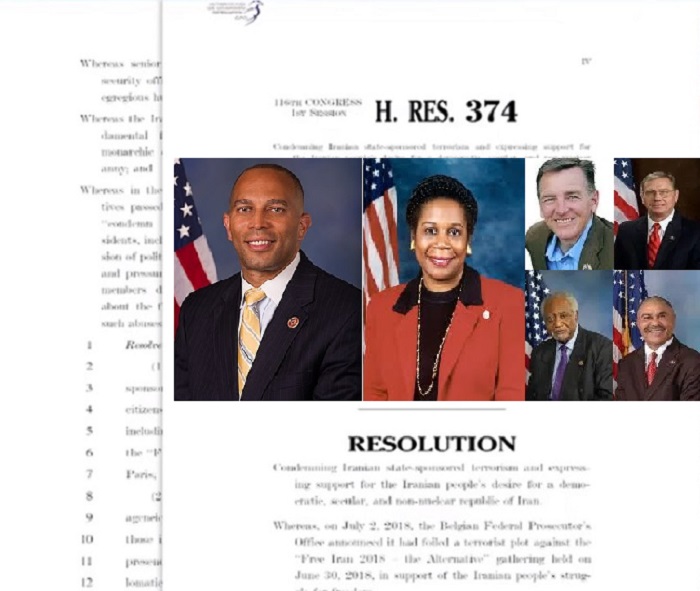 By Azita Carlson
At a conference organized by the Organization of Iranian-American Communities (OIAC) on October 30, 2019 at the House of Representatives, 110 members of the U.S. Congress from both Democrat and Republican parties have co-sponsored a resolution condemning the Iranian regime's terrorism in Europe, particularly the terror plots against the main opposition group People's Mojahedin Organization of Iran (PMOI), or Mujahedin-e-Khalq (MEK).
This Bi-partisan supported resolution called for the closure of the Iranian regime's embassies in Europe, in particular, Albania.
The House Resolution 374 was unveiled at a conference on October 30, 2019, that was organized by OIAC.
Strong bipartisan support for @OrgIAC event in congress today. @USAdarFarsi @SpeakerPelosi @SecPompeo @VP H. Res 374 condemning terrorism by the #Iranian regime and support the call for freedom and democracy. https://t.co/SKinIJWc1b pic.twitter.com/4HWbgo2AGh

— Robab Baraie (@BaraieRobab) October 30, 2019
The members of the congress also expressed their support for the Iranian people's struggle for freedom and democracy and their main opposition movement, the MEK.  

The House Resolution 374 "condemns past and present Iranian state-sponsored terrorist attacks against United States citizens and officials, as well as Iranian dissidents, including the Iranian regime's terror plot against the 'Free Iran 2018 – the Alternative' gathering in Paris."  

The resolution "calls on relevant United States Government agencies to work with European allies, including those in the Balkans, where Iran has expanded its presence, to hold Iran accountable for breaching diplomatic privileges, and to call on nations to prevent the malign activities of the Iranian regime's diplomatic missions, with the goal of closing them down, including the Iranian embassy in Albania."  

It also further "stands with the people of Iran who are continuing to hold legitimate and peaceful protests against an oppressive and corrupt regime and it recognizes the rights of the Iranian people and their struggle to establish a democratic, secular, and non-nuclear republic of Iran."   

The U.S. Congress passed H.R. 4744 in the 115th Congress to call on the Unites States to "condemn Iranian human rights abuses against dissidents, including the massacre in 1988 and the suppression of political demonstrations in 1999, 2009, and 2017, and pressure the Government of Iran to provide family members detailed information that they were denied about the final resting places of any missing victims of such abuses." 

According to the Select Iran-Sponsored Operational Activity in Europe, released by the Department of State on July 5, 2018, "Two Iranian operatives were arrested on charges of terrorism by Albanian authorities," for a bomb plot against the March 2018 New Year gathering of thousands of Iranian opposition members in Tirana, the H.Res.374 pointed out.  

The Albanian Government expelled the Iranian regime Ambassador Gholamhossein Mohammadnia and MOIS station chief in Albania, Mostafa Roudaki in December 2018. Albania accused them of planning terrorist plots against the MEK members.  

"expulsion of the Iranian Ambassador by the Government of Albania is a positive and important step, which sends the right message that no Iranian embassies should be used for plotting terror and conducting spying activities against dissidents," described the resolution.  

On September 28, 2019 the Prime Minister of Albania Edi Rama told the UN General Assembly: "Albania is particularly concerned by Iran's destabilizing behavior in the Middle East but also often disruptive activities in relation to the Iranian opposition community who have generously been hosted in our country after having been subject to despicable massacres elsewhere. We had to react firmly to a number of Iran's illicit activities against our national security interests and We stand firm on the side of the countries that have been hurt by such activities both on the sea and in their land." 

The resolution pointed out that:  

Iran's malign activities in the Balkans, specifically its presence and activities in Albania, pose a serious threat to United States national security interests.

 

 

Senior Iranian Government, military, judicial, and security officials have for decades ordered or committed egregious human rights violations and acts of terror.

 

The Iranian people have been deprived of their fundamental freedoms for which reason they rejected monarchic dictatorship and are opposing religious tyranny. 

 

The representatives who spoke at the conference included Hakeem Jeffries, Democrat from New York; Sheila Jackson Lee, Democrat from Texas; Paul Gosar, Republican from Arizona; William Lacy Clay, Democrat from Missouri; Blaine Luetkemeyer, Republican from Missouri; and Danny K. Davis, Democrat from Illinois. 

In his remarks, Rep. Hakeem Jeffries said: "I certainly appreciate your fight for freedom and justice and equality. We stand with you as it relates to making sure that democracy is brought to Iran. We stand with you as it relates to the promotion of the rule of law. And freedom for all people. They should be allowed to be able to pursue their hopes, dreams, and aspirations. We stand with you as it relates to ensuring a nuclear-free Iran. And we stand with you as part of the effort to make sure that we can bring Iran back into the community of nations, consistent with the proud history of the Persian people. So, thank you for your presence. Thank you for your effort. Thank you for the fight. We'll be with you every step of the way. God bless you."  

While referring to Mrs. Maryam Rajavi and expressing support for her ten-point plan, Rep. Sheila Jackson Lee said: "I call her my sister and her ten points, the 10-points of liberation to finally arrive at the point where the people of Iran welcome democracy, freedom, and empowerment and the fair treatment of women."  She also expressed her full support of the H. Res. 374 and said, "So, as you well know, I am an original co-sponsor of H. Res. 374 and we are well aware of the work that we still need to do."  

 "Your support, your perseverance are all noted. You're on the right side of history. It's just going to take perseverance. No questions can be asked about that. So, I think it is very important particularly at this time in history that we concentrate those efforts; one of those efforts being House Resolution 374 that calls out and condemns this application," said Rep. Paul Gosar.  

 "You know our world right now is experiencing a tremendous amount of turmoil. Over the years, we've made tremendous progress in the movement towards freedom. Equal opportunity, Justice. … So, start every day with faith in your heart and keep struggling, climbing, working, hoping and being unified. And I do believe that your dreams of freedom will ring true." Concluded Rep. Danny Davis.  

"As we gather in solidarity to support the Iranian people who still suffer oppression, intimidation, and violence under the boot of the corrupt terrorist regime in Tehran, I'm honored to co-sponsor House Resolution 374 which condemns Iranian state-sponsored terrorism and expresses strong support for the Iranian people's desire for a free, democratic, secular and non-nuclear republic of Iran. … The National Council of Resistance of Iran is the beating heart of freedom for the Iranian people. And I'm proud to support you here in Washington and back in Saint Louis as well. May it be God's will that freedom, peace, and justice come soon," said Rep. William Lacy Clay. 

Rep. Blaine Luetkemeyer said he supports the activities of the Iranian democratic opposition and he pointed out that Iran has potential, but unfortunately those in power are not the right people to run the country.