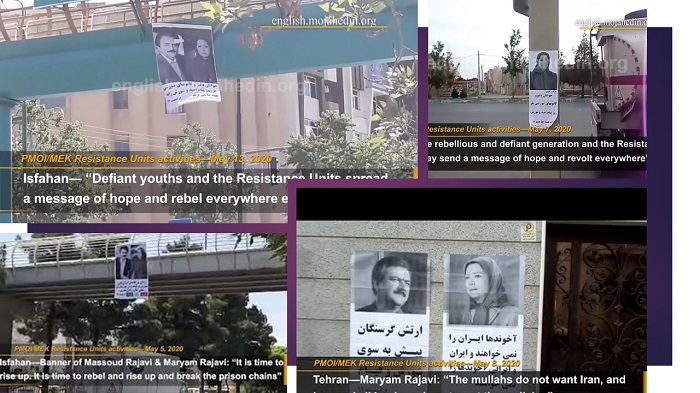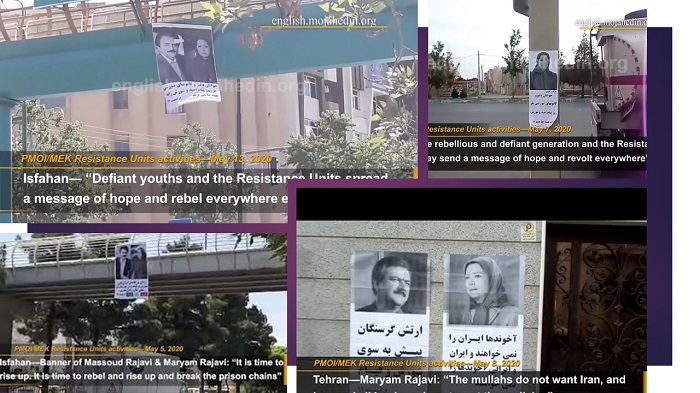 The MEK Resistance Units took to the streets last weekend to rebel against the regime's mismanagement of the coronavirus crisis in Iran. Rebellious youth torched Basij bases, set fire to posters of regime leaders, and posted banners with messages from the Iranian Resistance.
The MEK has loudly protested the regime's false reporting of coronavirus deaths in Iran since the beginning of the outbreak and has painstakingly gone through records and reports from inside sources to provide daily figures of actual deaths. As of Tuesday, May 12, more than 41,000 people in 317 cities in all 31 provinces in Iran have died from coronavirus, according to the MEK.  In contrast, the regime has reported 6,733 deaths to world health authorities.
On May 8 speech, regime Supreme Leader Ali Khamenei delivered a speech via video to the National Committee on Combating Coronavirus, during which he claimed to have made major accomplishments in the fight against COVID-19, "while the West has failed." Meanwhile, a second wave of infections is overwhelming Iranian hospitals, due to last month's decision to re-open the country before it was safe to do so.
Rebellious Acts
On Saturday May 9, rebellious youth in Shahrekord and Tehran set fire to two Revolutionary Guards (IRGC) Basij Force bases. The Basij Force is charged with carrying out the regime's paramilitary operations outside of Iran, but they have also been used as a suppressive force within the country to quell popular uprisings and demonstrations.
Despite the ongoing risks of the novel #coronavirus, people from all walks of life are holding rallies in different cities throughout #Iran protesting poor living conditions.https://t.co/vqFqkKg5ZX

— People's Mojahedin Organization of Iran (PMOI/MEK) (@Mojahedineng) May 13, 2020
Also on Saturday, MEK Resistance Units in Tehran, Gorgan, Shiraz, Qom, Karaj, Bojnurd, Langaroud, Kashan, and Tonekabon made banners that read: "We will resist and fight the coronavirus and the ruling theocracy," and "Free political prisoners." Members of the Resistance Units posted the banners on walls in each of the cities.
On Friday, May 8, MEK Resistance Units in Tehran, Shiraz, Karaj, Semnan, Babolsar, Tonekabon, Andimeshk, Behbahan and Borujen made and posted banners that read: "Iranians will not surrender to sorrow, silence, stillness and darkness of the coronavirus caused by the mullahs;" and "There is a single solution for the Coronavirus. That solution is overthrowing the mullahs' religious dictatorship."
On Thursday May 7, defiant youth in Astane Ashrafiyeh, Kerman, and Kashan set fire to posters of regime founder Ruhollah Khomeini, Supreme Leader Ali Khamenei, and IRGC General Qassem Soleimani. Soleimani was killed by a U.S. drone attack in January of this year.
The role of the #MEK is not limited to revealing the regime's lies. The MEK #Iran has shown a way to put an end to the problems Iranians are facing with during for the past 40 years https://t.co/YOMAoUBJ4o#Covid_19 @USAdarFarsi pic.twitter.com/jUfItRSAAr

— MEK Iran (Mujahedin-e Khalq) (@MEK_Iran) May 8, 2020
Also on Thursday, Resistance Units members and MEK supporters in Shiraz, Tehran, Omidiyeh, Kasha, and Behbahan posted messages from Iranian Resistance leader Massoud Rajavi and National Council of Resistance of Iran (NCRI) President-elect Maryam Rajavi on walls in each of these cities. The messages read: "The rebellious and defiant generation and the Resistance Units each day send a message of hope and revolt everywhere," and "Down with Khamenei, hail to Rajavi."
The regime has shown little regard for the well-being of the Iranian people during the coronavirus crisis. Rather, it has used the pandemic as yet another tool of oppression. The mullahs will not save the people from this deadly disease. The regime is another virus infecting Iran, and until it is eradicated, the country will not be healthy or free.