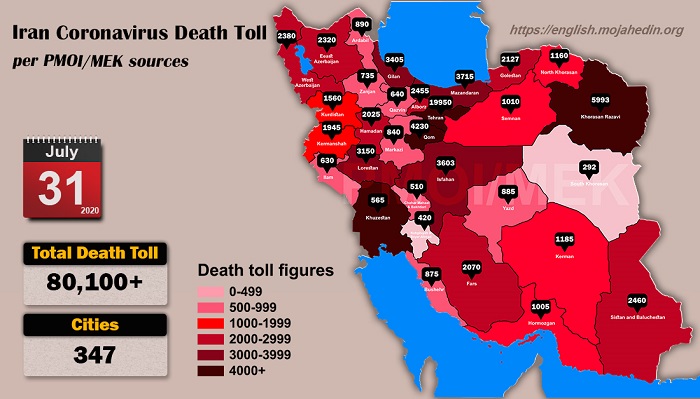 Over 80,100 Iranians have now died from contracting the Covid-19 disease across 347 cities. As has been typical throughout the pandemic, there is a huge disparity between the figures obtained by the main opposition organization, the People's Mojahedin Organization of Iran (PMOI / MEK Iran), and the 'official' figures released by the Iranian regime.
Selected provincial fatalities are given below:
5,993 in Razavi Khorasan;
5,655 in Khuzestan;
3,715 in Mazandaran;
3,603 in Isfahan;
3,150 in Lorestan;
2,460 in Sistan & Baluchistan;
2,455 in Alborz;
2,380 in West Azerbaijan;
2,127 in Golestan;
2,045 in Fars;
1,560 in Kurdistan;
1,160 in North Khorasan;
875 in Bushehr;
840 in Markazi (Central); and
292 in South Khorasan.
The Iranian Health Ministry has reported an unprecedented number of people in ICU across the country. 4,041 were said to be in ICU. The spokesperson from the Health Ministry reported that "currently, all areas across the country are contaminated with Covid-19.
Iran: Coronavirus Update, Over 80,100 Deaths, July 31, 2020, 6:00 PM CEST
The People's Mojahedin Organization of Iran (PMOI-#MEK) announced this afternoon that #Coronavirus has taken the lives of more than 80,100 in 347 cities across #Iran. #COVID19 https://t.co/OOwTjo9TY0

— NCRI-FAC (@iran_policy) July 31, 2020
In Chaharmahal & Bakhtiari province from late May, we are once again witnessing a rising trend in the number of new daily cases and people being hospitalized, the highest since the beginning of the pandemic.
In Markazi province, from early June we are witnessing an increasing number of daily new patients in most of the cities. The trend of the number of new hospitalized cases in some cities of Markazi province, including Arak, Zarandiyeh, Khomein, Saveh, and Doleijan is concerning,"
President Hassan Rouhani must have his eyes and ears closed to the dire truth about the pandemic's spread in Iran. He was reported saying that he thought that the situation had plateaued and the trend was "towards recovery," something that is patently not true.
As a counter to official reports, the National Council of Medical Groups Association has sent a joint letter to Rouhani that has been signed by many officials and ministers. It warns of catastrophic numbers of vases and deaths if the present trend is allowed to continue.
It predicts that without a change in tactics, the death toll could rise to 1,600 a day by October. The letter stresses that medical staff is sorely fatigued and facilities are stretched to their limits.
More than 80,100 people have died of the novel #coronavirus in 347 cities checkered across all of #Iran's 31 provinces, according to the Iranian opposition PMOI/MEK. pic.twitter.com/XtBGD8WH2T

— People's Mojahedin Organization of Iran (PMOI/MEK) (@Mojahedineng) July 31, 2020
It advises that all large gatherings, including religious and social events and ceremonies as well as the end of year exams, should be banned and the ban enforced strictly to limit the spread of the virus.
The Deputy Health Minister, Iraj Harirchi, said that Tehran was "the main source of contamination" as it was a place where many Iranians stayed and passed through. "Yesterday in Tehran we hospitalized 710 Covid-19 patients.
Currently, the number of people hospitalized each day has reached 4,000," he said.
The head of Tehran's Sina Hospital said that the 500-bed hospital was always full of victims of the virus. "We no longer have any beds to hospitalize new patients. At times we are at 110 to 120 percent of our capacity," he said.
The head of Firzugar hospital gave a similar report about conditions in that hospital. Firzugar is a 200-bed hospital that is full of Covid-19 patients. 70 of these patients are in ICU.
The deputy governor of Fars province said that over half of the 36 cities are at code red status, while most of the others are at the warning (code yellow) stage.
A spokesperson from the Isfahan Medical Sciences University said that there were 855 people in hospital with Covid-19 with 169 in ICU. The number of chronically ill people "has increased significantly," according to this spokesperson.
Mrs. Maryam Rajavi the President-elect of the National Council of Resistance of Iran's (NCRI), said that the COVID-19 disastrous impact on Iran was the direct result of the Ali Khamenei and Rouhani's criminal policies.