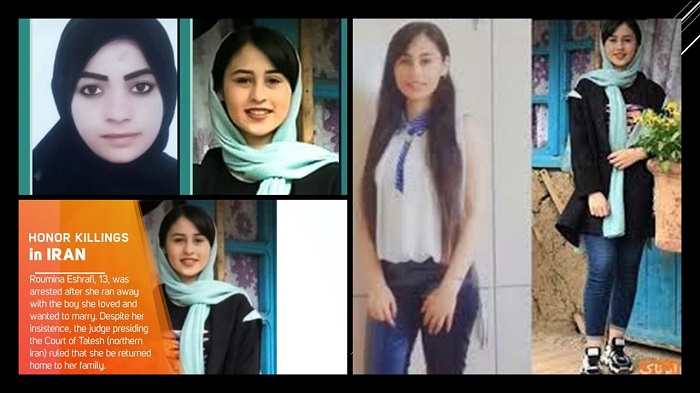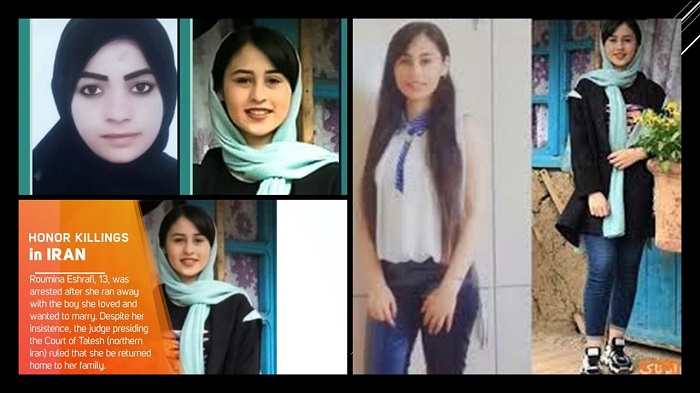 One of the most recent news items being circulated at present is the tragic news of the death of the 13-year-old, Romina Ashrafi, who was beheaded by her flesh and blood father, with a sickle. It has been described as an "honor killing."
Romina Ashrafi was murdered after she was found eloping with a 35-year-old man in Hovigh, Talesh County, in the northern part of Iran. The pair, it has been alleged, eloped after her father expressed disapproval of their desire to marry. But Romina was sought out by police and subsequently forced to go back home, even though she told the authorities that her life would be in danger.
#Iran's Misogynist Regime Is Responsible for Romina Ashrafi's Death
As long as the mullahs and their medieval constitution exist, these tragedies will continue. #HumanRights https://t.co/8ELl3BkeKX

— NCRI-FAC (@iran_policy) May 29, 2020
Father won't be punished for honor murder
Due to Iran's old fashioned rules, the National Council of Resistance of Iran's Women's Committee has said that her father will not be punished.
Iran's state media didn't hesitate to report that Romina, at the court hearing, said she feared for her life if she was forced home. Because of the criminal intentions of the judge and based on both anti-Islamic and inhuman rules dreamed up by Iran's regime, Romina was sent home.
Unfortunately, Iran lives in the dark old days where women had no rights, so the regime's misogynist constitution fails to punish perpetrators of honor killings in the country. These are carried out mainly by fathers and brothers of the unfortunate victims.  The Islamic Penal Code Article 220 is quite explicit in stating that: "the father or paternal grandfather who kills his child… will only be sentenced to pay the blood money to the heir of the victim."
Romina's death has been condemned globally
Amnesty International tweeted that it was aghast when it learned of the honor killing of Romina, whose father cowardly beheaded her while she was asleep. What makes matters worse is the fact that Romina's father openly admitted to the killing, knowing he wouldn't face any sort of punishment. He was even named in the media as one of the mourners at her funeral.
Women are second class citizens under the Iranian regime today
It is sad when you hear reports from the police that 20 percent of all murders in Iran are the result of unpunishable honor killings. There was another recent report of a woman 18 years old whose brother murdered her by setting her alight due to her marrying a man older than herself.
Sistan and Baluchistan Province witnessed another horrific honor killing.
Hajareh Hosseinbor was the victim of this killing. She was the mother of a 2-year-old son. She had already been the victim of ongoing abuse by her husband, but this escalated when her digestive tract was burned by acid forced into her throat by her husband. Also, her head was filled up with thorns and her hands and arms were pounded by stones. The hospital nurse said that Hajareh had no teeth left and many of the bones in her body were broken.
#Iran under barbaric mullahs' rule: Cruel murder of young woman by fatherhttps://t.co/hc1T9hojCp pic.twitter.com/JMWeegfu3A

— NCRI Women's Committee (@womenncri) May 26, 2020
It doesn't matter where these crimes take place. If a country's laws act against a certain sector of the population, in this case, women, crimes will continue unchecked. The NCRI Women's Committee has constantly urged the United Nations High Commissioner for Human Rights, Michelle Bachelet, the Human Rights Council, international forums, and the UN special rapporteurs for women and children's rights, to confront and condemn the Iranian regime for its misogynist laws and practices that encourage these sort of inhumane killings.