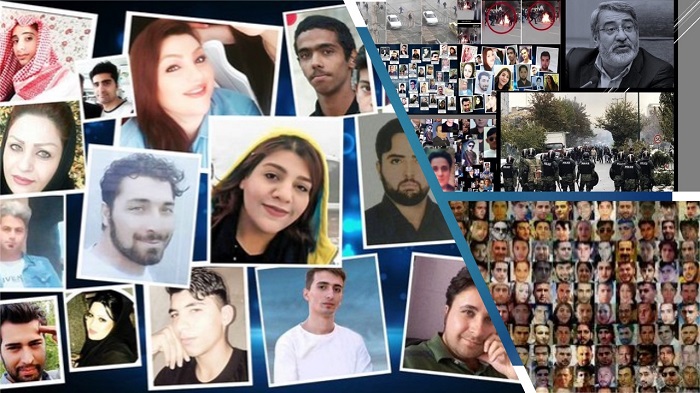 Abdolreza Rahmani-Fazli, the mullahs' interior minister, conceals crimes against humanity by trying to downplay the number of martyrs in the November 2019 uprising. Now, finally, after seven months have passed, he has admitted that 200 people were murdered during the November 2019 uprising. At least 40 or 45 were seemingly killed by non-standard weapons which probably means they were murdered individually and not by gunfire.
State-run TV on May 30th interviewed Rahmani-Fazli and he quoted random figures of the number who had allegedly been killed but he did say it wasn't in the thousands but more like between 40 and 45 and they were not killed using weapons used by the security forces.
In the interview, he also mentioned the Internet outage that took place during the November 2019 uprising. He admitted this was done deliberately because the regime was afraid a civil war was just about to begin and didn't want the Internet to be used to initiate it. He continued his remarks by saying that the uprising was initiated as a result of increases in petrol prices and this was used as an excuse to disrupt the country. Rahmani-Fazli said it was important at the time to maintain order at all costs.
Later on, the Etemad daily on December 17th, 2019, revealed that Rahmani Fazli was confronted by a regime parliament deputy who said that two people in his constituency were shot in their heads and asked why weren't they shot elsewhere. He claimed stupidly that they were shot in the feet.
The People's Mojahedin Organization of Iran (PMOI / MEK Iran) after announcing on December 15th, 2019, that the number of martyrs in the November uprising was more than 1,500, this was followed soon after by Reuters who stated facts from three Iranian interior ministers that about 1,500 people were killed in less than two weeks of unrest which began on November 15. These figures were alleged drawn facts gathered from "security forces, morgues, hospitals, and coroner's offices."
Reuters confirmed in a special report in December 2019 about the deadly crackdown on November uprising in Iran the death toll of 1500 that was announced by the (PMOI / MEK Iran).
True casualty figures from November 2019 protests yet to be revealed
Hassan Rouhani responded on February 15th to these numbers and said they were recorded in the coroner's office. Five days after that, Rouhani's government spokesman, Ali Rabeie, said at a cabinet meeting that what the president reported was based on the fact that the coroner's office has the authority to publish the cause of death and then issued a burial permit. He also said that the Coroner's office has revealed by letter the figures for those killed. However, the coroner's office didn't necessarily know precisely how the deaths occurred but some of the key facts were based on field reports and surveys, and also the security forces and police were allowed their input as well.
Finally, Rabeie explained that the most accurate figures would soon be announced by the authorities delegated the responsibility to handle such matters.
Mullahs' regime tortures detained protesters, arrests martyrs' families, in bid to prevent memorial ceremonies- Call on the UN to send an international fact-finding mission to visit the prisons #IranProtestshttps://t.co/BNU31UVf4H pic.twitter.com/MisioAgSRc

— Maryam Rajavi (@Maryam_Rajavi) December 24, 2019
A quote from the Iranian Resistance (PMOI / MEK Iran) says it "has consistently emphasized that by any measure, the November massacre was a crime against humanity and that the regime's leaders and officials must be prosecuted and held accountable by an international tribunal."
Sources affiliated with the (PMOI/MEK Iran) inside Iran are provided reports on the November uprising, identifying 504 protesters who were killed by the regime's security forces.