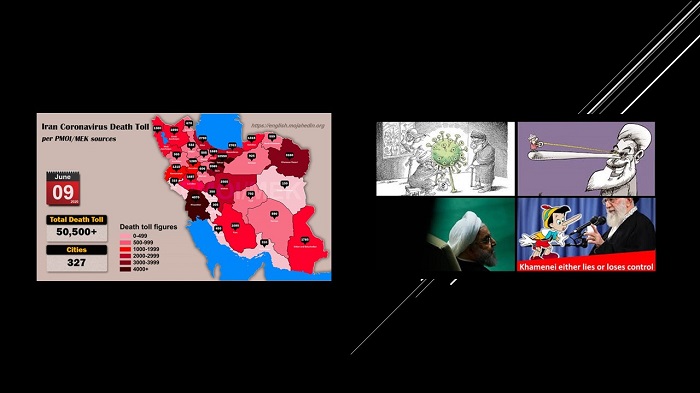 Iranian President Hassan Rouhani acknowledged on Saturday that the regime has failed to confront the coronavirus crisis and is now abandoning all of its limited efforts to contain the virus by insisting that factories be active, shops are open, and people move around freely.
Meanwhile, the People's Mojahedin Organization of Iran (PMOI / MEK Iran) reports that over 50,500 people have died from the virus in Iran. The regime is trying to suppress the statistics to make themselves look better and so only report just over 8,000 deaths, which would put them in a better position than many countries with smaller populations and better access to healthcare.
More than 50,500 people have died of the novel #coronavirus in 327 cities checkered across all of #Iran's 31 provinces, according to the Iranian opposition PMOI/MEK. pic.twitter.com/4MIajXZfL0

— People's Mojahedin Organization of Iran (PMOI/MEK) (@Mojahedineng) June 9, 2020
During his coronavirus task force meeting, Rouhani showed how angry he was towards the (PMOI / MEK Iran) for their revelations about the coronavirus in Iran and condemned state-run media for repeating the (PMOI / MEK Iran) statements; specifically the comments about a second peak in infections since the regime reopened the economy in April after a lax lockdown.
It's not just the coronavirus that the (PMOI / MEK Iran) is revealing more information about to ruin the regime's propaganda campaign.
Iran: Coronavirus Death Toll in 327 Cities Exceeds 50,500
The People's Mojahedin Organization of Iran (PMOI / MEK) announced on Tuesday, June 9, 2020, that the #Coronavirus victims in 327 cities across #Iran have surpassed 50,500. #COVID__19 https://t.co/pUPtUyVfQf

— NCRI-FAC (@iran_policy) June 9, 2020
Interior Minister Abdolreza Rahmani Fazli has tried to claim that only 200-250 people were killed during the regime's brutal crackdown on the November uprising over the gas price hike, with some of these killed by protesters. The (PMOI / MEK Iran) reported that over 1,500 were killed by security forces, not to mention those who died under torture or because they did not seek medical care for fear of arrest, with no one killed by protesters. The (PMOI / MEK Iran) figures have been confirmed by Reuters and the US State Department. 
Thousands of banners and posters have been erected across many of Iran's cities in recent days by supporters of the #PMOI #MEK #Iran The messages were from the leaders of the main opposition movement in Iran, #NCRIhttps://t.co/ZxGIOL0R6v #Iranian #coronavirus @USAdarFarsi pic.twitter.com/gs41y3X4VD

— MEK Iran (Mujahedin-e Khalq) (@MEK_Iran) June 8, 2020
Recently, the  (PMOI / MEK Iran) Resistance Units across Iran continued their anti-regime activities.
In the period, Thursday through Saturday, brave Iranian youths torched two Basij base signs in Saveh and Khorramabad and burned posters of Supreme Leader Ali Khamenei and regime founder Ruhollah Khomeini in Tehran, Isfahan, Sarbandar, and Kamalshahr.
While Resistance Units in Tehran, Isfahan, Shiraz, Rasht, Damavand, Hamadan, Karaj, Abkenar (Gilan), Hashtpar (Gilan), and Sarbandar put up graffiti in public places with the slogans:
"The Iranian people's wealth, which is under the control of the IRGC & Khamenei must be wrested out of the mullahs' control"
"Rise to overthrow the regime of the Supreme Leader"
"Down with Khamenei, Viva Rajavi"
Down with the principle of the Supreme leader's rule"
"The spring of Iran's freedom will be realized by us and by our own hands"