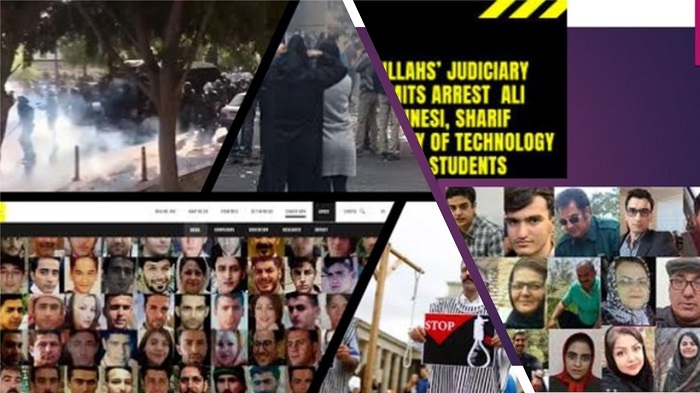 Recent arrests took place in a number of cities throughout Iran including: Ahvaz, Amol, Andimeshk, Arak, Behbahan, Bushehr, Gorgan, Isfahan, Karaj, Kashan, Kermanshah, Mahshahr, Marvdasht, Mashhad. Neyshabur, Rasht, Sabzevar, Shiraz, Tabriz, Tehran.
These took place following a demonization campaign in Iran by Nejat Associations and their associates overseas. 
Unfortunately for the main resistance movement in Iran, Mojahedin-e Khalq (MEK Iran), the regime is so fearful of the support that the resistance movement has built for itself and the recent wave of popular protests so it is now seeking revenge. The Ministry of Intelligence and Security (MOIS) and the IRGC Intelligence Organization have started arresting many youth activists, especially the families and supporters of the Mojahedin-e Khalq (MEK Iran). Many have now been imprisoned while others have been released on bail temporarily on the condition a form is signed promising not to take part in any activities that don't support the regime.  
Regime dictator Khamenei admits #Iran's young generation wants regime changehttps://t.co/8zhXddTGQt

— People's Mojahedin Organization of Iran (PMOI/MEK) (@Mojahedineng) May 21, 2020
The MOIS, IRGC, or their plainclothes representatives, have raided people's homes or offices and in the process severely beaten those detained. They have also confiscated phones and computers belonging to the victims plus their personal and most valuable possessions.  
Repressive tactics used against victims
Once arrested, the youth have been subjected to lengthy periods of interrogation, along with torture and physical and mental abuse. Anyone who was lucky enough to survive this repressive action said that the interrogation mainly focused on extracting key information from them about the MEK and the Resistance Units and what relationship they had. They were also grilled on why they found supporting the MEK Iran was an attraction.
In Mashhad, the interrogators tried to scare a group of ten youth by setting up a scene of a mock execution to try and force them to release information about the MEK Iran.
Students were arrested because of their links to the People's Mojahedin of Iran (MEK Iran-PMOI).https://t.co/mpWt1VKRBs#Iran #MEK #coronavirus @USAdarFarsi pic.twitter.com/PZmf2eTdnN

— MEK Iran (Mujahedin-e Khalq) (@MEK_Iran) May 16, 2020
In Tehran, young women who had been detained were the subject of the torturers and interrogators who harassed and insulted them in the hope that they would make false confessions. They got them involved in bizarre television interviews and shows. Witnesses who observed this outrageous behavior gave credit to the young female detainees who stood up well and did not give in to the questions and demands of the interrogators. 
While all this was going on the clerical regime's intelligence services were trying to call and send messages to the young people to intimidate them so as to dissuade them from having any links to or giving any support to the MEK Iran. This was wishful thinking on the part of the regime that these willful arrests and detentions were going to break the resistance movement.
As a result of this new oppressive action, Mrs. Maryam Rajavi, the President-elect of the National Council of Resistance of Iran (NCRI), has brought to the attention of the Secretary-General of the United Nations, the High Commissioner for Human Rights, Special rapporteur on violence against women, and international human rights organizations to dispatch an international delegation to pay visits to the regime's prisons and meet and interview political prisoners, and those such as women who had recently been arrested.